You may already have the right tech in place to manage candidate applications. But what about support and processes? Here are five ways a candidate shortlisting specialist bridges the gap between your tech and recruitment process so you deliver a great candidate experience every time.
Talent leaders understand the value of creating a great candidate experience, from increased referral rates and customer retention, to building your reputation as an employer of choice. Job applicants who don't receive a job offer are 80% more likely to apply again if they had a positive candidate experience. But sadly, 52 per cent of candidates don't receive any communication two to three (or more) months after applying.
Now, in particular, with the number of involuntary jobseekers applying for opportunities, candidate care goes beyond benefits for employers.
Talent strategist Steve Gard of Talent Rich expresses this well: "Many arguments for providing adequate candidate care speak to the benefits for employers. Right now, many people are involuntary jobseekers. As employers, we're asking them to apply. The very least we can do is respond. Of course, there are benefits for employers. But my priority is the welfare of job seekers during this time. Being ghosted is massively impactful. Employers should have the tech and processes to respond."
Talent leaders must prioritise candidate care and feedback. While you may have right tech in place, such as an ATS, to respond to candidates, a shortlisting specialist can provide you with the additional support you need to ensure you're delivering a great candidate experience every time. Here are 5 ways a candidate shortlisting specialist will help you succeed in delivering great candidate care.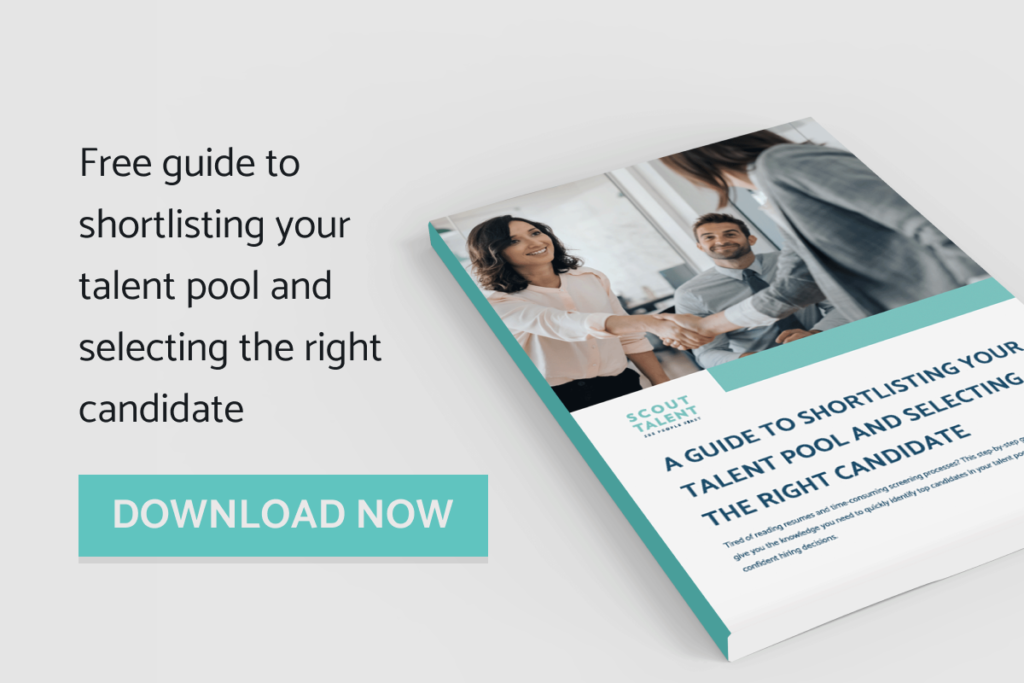 1. Provide timely, personal feedback to all your candidates 
Some employers only want to respond to candidates that meet their selection criteria, while others are simply reluctant to deliver bad news. But this is fast becoming an unacceptable practice.
In considering the current candidate market, providing feedback to all candidates is a bare minimum. A shortlisting specialist will not only respond to all your candidates, they will do so in a timely, respectful and personal manner. They will also tailor responses to different segments in your talent pool and establish clear expectations by relaying your when they can expect to be notified of an outcome.
According to the latest research in our Employer Branding Insights Report, 50% of candidates are comfortable with a longer recruitment process if they're advised of the steps in the process.
2. Speed up your hiring
While receiving lots of applications can be one of the better recruitment problems to have, it can be tough to manage them all on your own. Working with a shortlisting specialist is a consultative process. You'll define your selection criteria, identifying the "must have" and "nice-to-have" skills, qualifications and experience of your ideal candidate. Your shortlisting specialist does the heavy lifting, expertly managing all the applications you receive to ensure you find your ideal candidate/s sooner.
3. Use best-practice interview techniques
Experienced shortlisting specialists will design effective behavioural-based interview questions based on your selection criteria. These targeted questions will allow you to gain deeper insights into candidates and paint a broader picture of their skills and attributes beyond their resume and application.
Scout Talent's shortlisting and selection specialists conduct recorded two-way video interviews for you and your hiring managers to review before progressing candidates to the next stage.
4. Coordinate your second-stage interviews 
Delegate coordinating and scheduling second-stage stage interviews to your shortlisting specialist. They'll find the times that work for you and your hiring managers, and invite candidates to an interview using scheduling tools. This allows candidates to easily select interview times online, at their convenience. (Another example of Services-enabled Software in action.)
5. Conduct additional tests and checks
Depending on your role and requirements, a shortlisting specialist can complete additional tests and checks, such as behavioural, psychometric and skills testing, reference checks and more. They'll have the tools on hand to facilitate and deliver results to you and your hiring team quickly and cost-efficiently.
In the current market, poor candidate care practices and lack of feedback are no longer options. Whether you want to obtain a list of qualified candidates through a full end-to-end recruitment campaign, or just want to gain some additional support with screening and interviewing, a dedicated shortlisting specialist will tailor a solution based on your requirements. Specialist support makes delivering a great candidate experience not only possible, but easy.
For support shortlisting and selecting the right candidate, find out more about our shortlisting services or feel free to reach out to us at info@scouttalent.com.au or on 1300 366 573. 
If you enjoyed this content and want to receive our monthly recruitment news emails, complete the form below.