Build and maintain a strong talent pipeline with :Engage
What will
:Engage

achieve?
How much does
:Engage

cost?
Investing resources in recruitment software can be out of reach for many SMBs, but with :Recruit Essentials, you can have a fully implemented system and achieve incredible ROI with a low investment of $1800 per year.
That's only $150 per month!
Additionally, businesses will receive a complimentary branded expression of interest form – valued at $995. But hurry, this offer is only available for a limited time.
Strengthen your future pipeline with an engaged talent pool
:Engage

is backed by Specialist support
Specialist support when you need it
Our specialists are ready to help when you need an extra set of hands with:
Branded email templates
Content creation
Reporting
Access to a library of training resources
You'll gain access to our on-demand training library with useful information to help you get the most out of :Engage.
Exclusive industry insights and trends
Receive news, industry insights, and special promotions to help you stay ahead of the game.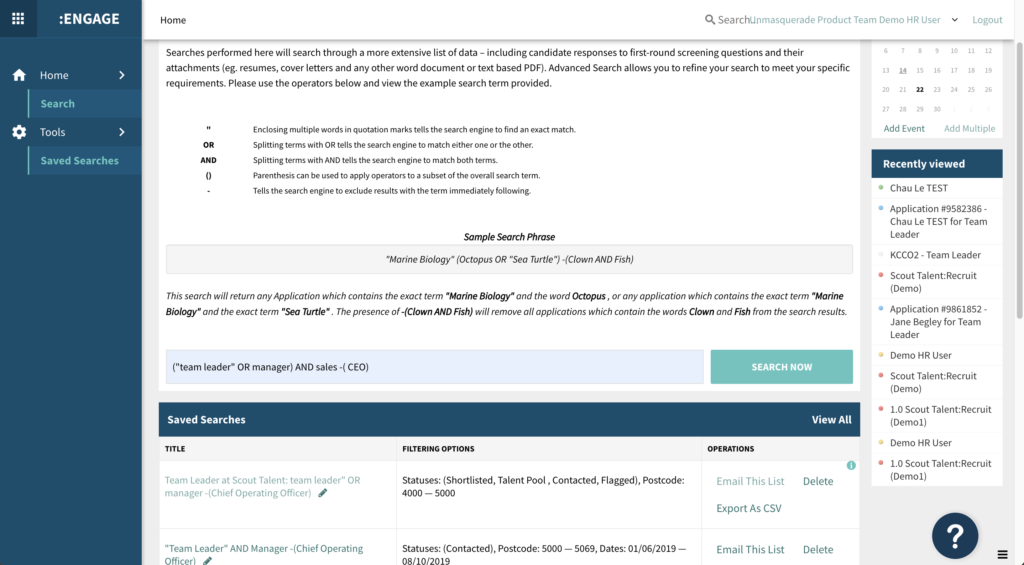 Through :Engage, you can set parameters around your searches. You can also search for a more extensive list of data, including applicant responses to first round screening questions and any text-based attachments, such as resumes and cover letters.
Tailor your talent pool search
The various filtering options allow you to narrow down your search to a more tailored, specific talent pool.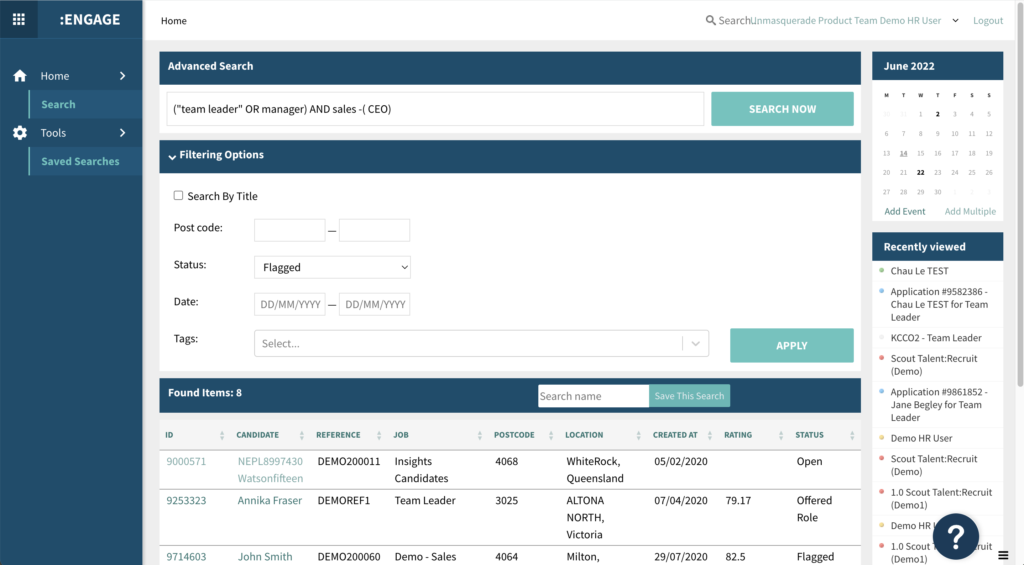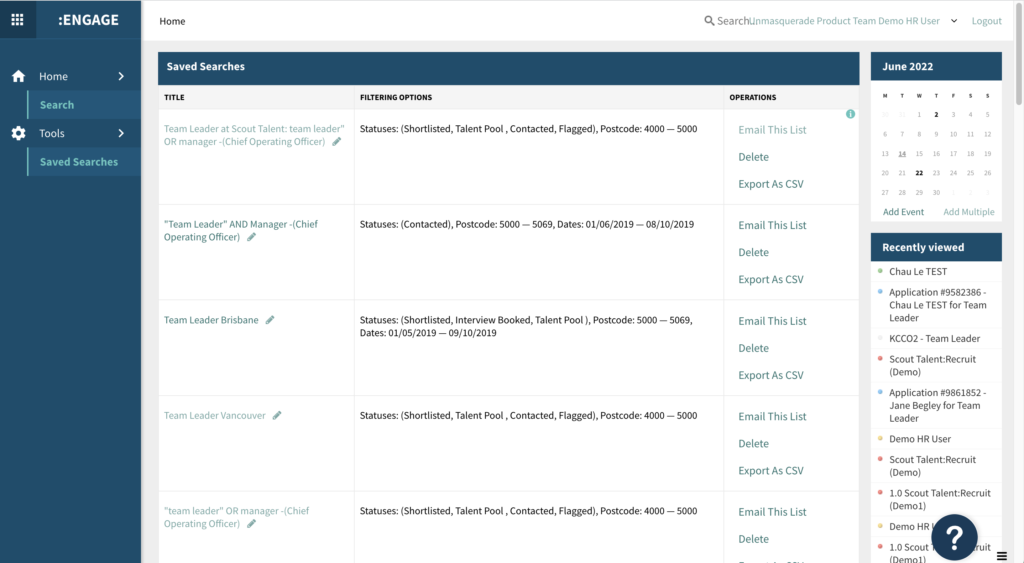 All talent pools are saved as a 'Saved Search' and are 'live and dynamic'. This means from the moment it's created, any applicants that fit the parameters and filters set up on the Saved Search will automatically fall into that talent pool (until you delete the Saved Search).
Interact with your talent pool
You can interact with their passive talent pool at any time. During implementation, we will create some additional email templates that can be used to engage with the talent pool.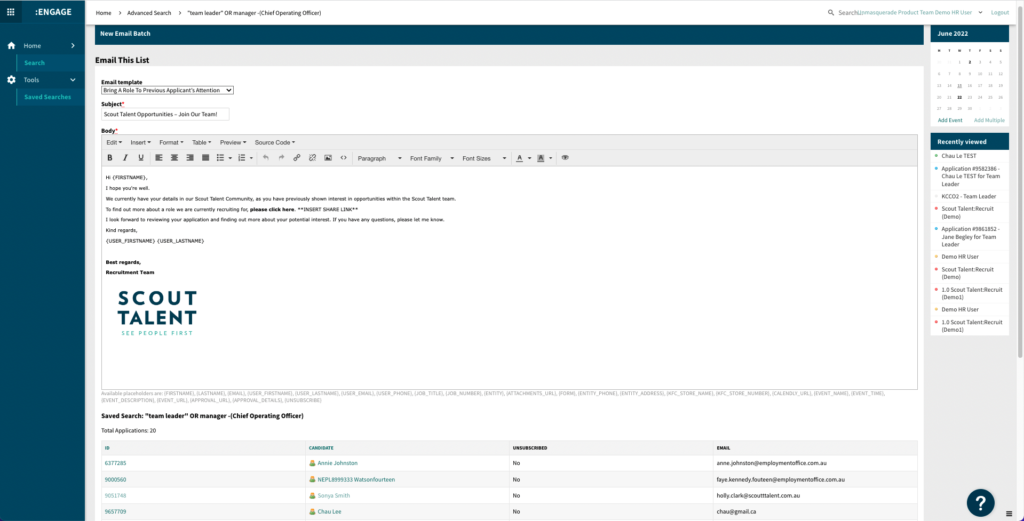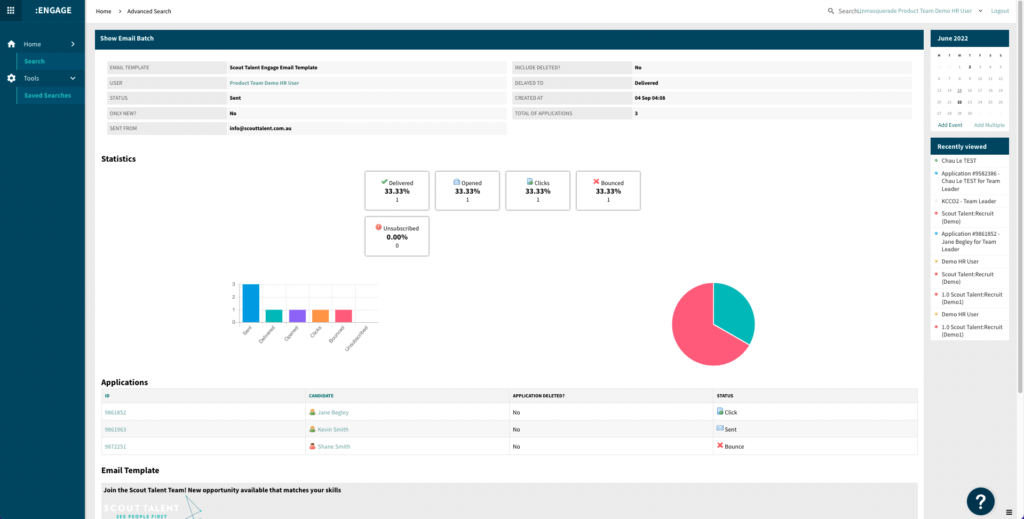 All email batches are tracked in the system, so you can see how candidates interact with your emails. 
How can

:Recruit Essentials help you?
A lack of time, money or staff can have you cutting corners. With :Essentials, you maximise your recruitment capabilities and streamline the process.
If your current talent acquisition strategy isn't reaching enough candidates, let alone the right fit, :Essentials is the perfect solution to expand your audience and build your talent pool.
Working on a tight budget? Gain access to the key capabilities of Recruit for less.
Not sure if
:Engage

is right for your organisation?
It is straightforward to set up and use. The support team is quick to respond to any inquiries and offers help through multiple people/functions. Compared to other ATS I've used, it is the easiest system to use, and all the hiring managers have said so.
I have been using Recruit for many years and find it very efficient and easy to use. The customer service and support team are very responsive and helpful if there are any issues and it is great to have everything in one place.
User in Staffing and Recruiting
The layout and the dashboard are straightforward to use. The way you can monitor the progression of the recruitment and the process.
User in Facilities Services
Ready to grow?
Lets get started!