How to Communicate With Candidates in Bulk Within :Recruit Essentials
Clear and transparent communication is essential for fostering a positive relationship with potential hires. If your job ad includes the statement "only shortlisted applicants will be contacted," it can create a negative impression right from the start.
Candidates value clear and consistent communication to make informed decisions. It's not solely about your organization's goals but also a collaborative effort between you and the candidates to find the best fit for both sides. Keeping candidates informed and engaged or providing closure when needed helps them navigate their job search effectively. Managing communications with numerous candidates for each and every available or closed job vacancy can be a daunting task. However, with :Recruit Essentials, you have access to an optimal solution.
Bulk candidate communications
In :Recruit Essentials, you can conveniently engage with applicants in bulk for each job. Benefit from customizable pre-made email templates to efficiently communicate with candidates en masse. Additionally, streamline your recruitment workflow and enhance visibility by bulk updating the status of your candidates.
How to set up bulk candidate communications
Login to your :Recruit Essentials account. 

In the left-hand navigation panel, select "Jobs" then click through to the job you want to set up.

Switch from the Job "Overview" to the "Applications" tab, as indicated by icon #1 below. 

Refer to icon #2 – select which candidates you'd like to email in bulk by ticking the box on the left-hand side. 

Hit the "Email" button indicated by icon #3 to compose your communications!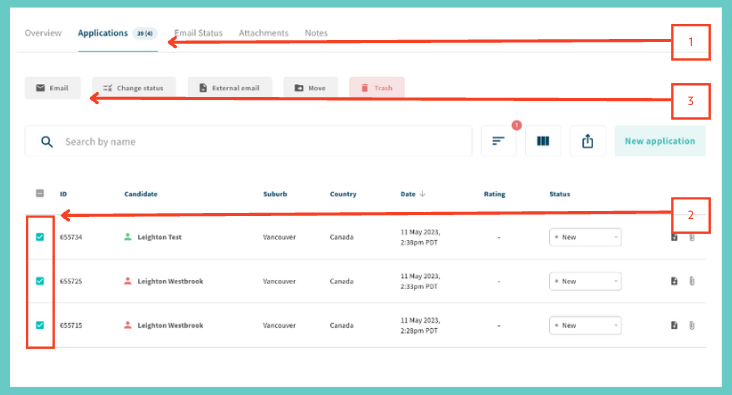 Next in :Recruit Essentials 
Completing tasks in bulk can save a ton of time and effort. In our next guide, you'll learn how to effortlessly and securely share application data with your organization's leaders, without compromising login details or resorting to manual processes. Stay tuned!