How to share application data with the bulk external email function
In the previous article, 'Bulk candidate communications', we discussed the significance of effectively communicating with multiple candidates simultaneously within your talent pool.  We also emphasized the importance of clear communication for both the hiring manager and the candidates involved. Showing transparency to a potential hire will put you in a favorable position as an employer and strengthen your organization's branding. 
After familiarizing yourself with the tools and features available in your talent pool, you will likely have a pool of strong candidates to choose from. In larger and smaller organizations alike, it is common for multiple individuals to be involved in the decision-making process when it comes to selecting the right candidate to hire. While it may not be necessary for everyone in your organization to have access to :Recruit Essentials, we provide a convenient and secure way for you to share job application data.
With our Bulk Email Function, you can effortlessly export candidate data, allowing your team leader to review it without the need for sharing login information and risking any compromise to information security. This feature offers an easy and effective method to share relevant data within your team while maintaining data protection protocols.
How to use the bulk external email function
With the :Recruit Essentials platform, you can quickly share application data with your leaders without sharing login details or printing off reams of applications. 
Follow the steps below to get started:
Login to your :Recruit Essentials account. 

In the left-hand navigation panel, select "Jobs" then click through to the role whose data you want to share. 

Click on the "Applications" tab indicated by Label 1. 

Select the applications that you'd like to forward to your external user by ticking the relevant boxes on the left-hand side (see Label 2). 

Select "External Email" as seen in Label 3, and you're set! 
The recipient(s) can then click individual links to applications and view all application data even if they don't have access to :Recruit Essentials.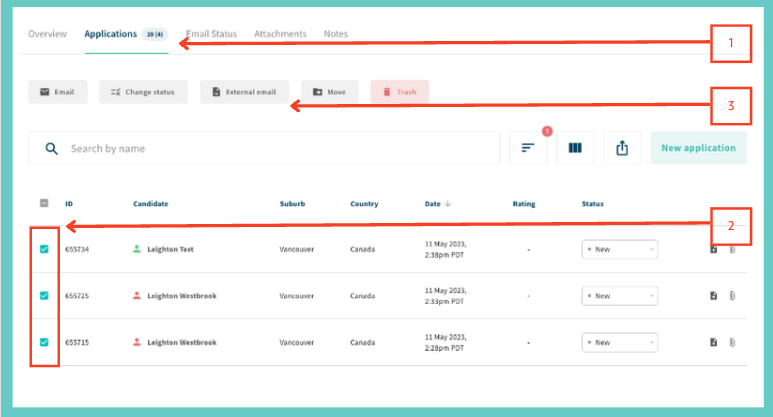 By utilizing the bulk external email function in :Recruit Essentials, you can securely share application data with team leaders, enabling streamlined decision-making without compromising data security. This promotes transparency, enhances your organization's brand, and simplifies collaboration during the hiring process.
Next in :Recruit Essentials 
 The next article dives into the exciting world of shortlisting applications in :Recruit Essentials. Here, you'll discover the power of individual and bulk shortlisting methods, along with helpful features like ratings, status changes, and bulk emails. Get ready to continue your journey in revolutionizing your recruitment process and finding the perfect match for your team. Click here to learn more.