This week we spoke with Scout Talent's CEO, Andrea Davey. Andrea spoke about Scout's unique employee engagement strategies, from creating opportunities to socialize outside of work to career progression and obtaining employee feedback on a regular basis.
As CEO, Davey is responsible for overseeing strategy, operations, people and resources for the Scout Talent Group. Her primary goal is to increase stakeholder value by leading and executing the organization's strategy. Davey is determined to lead Scout Talent Group towards a successful IPO by 2023-24.
Being active in the recruitment and talent space, Davey shared some invaluable strategies about engagement and building a positive employee experience.
Let's set the scene. Why does employee engagement matter? What does employee engagement mean to Scout Talent Group?  
On an individual level, most of us spend at least 40 hours a week (25% of our lives!) at work. So it's important we're enjoying the time we spend there. That's not to say work has to be happy and fun all the time. It's that you have to find it fulfilling and believe it's a valuable use of your life.
From a company perspective, it doesn't matter what the economic climate is like; whether there's a high or low unemployment rates, whether we're in an employer-driven or candidate-driven market. You're not going to grow and succeed in business without the right people working for you and loving their job. What matters is who you have on your team and their level of buy-in. If they're not engaged, it's going to hold your organisation back.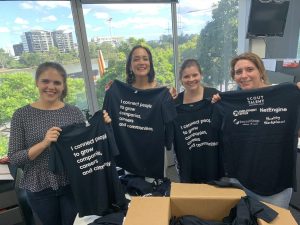 At Scout Talent Group, I want people in the business who want to be here. Broadly speaking, that means they enjoy their work and find it fulfilling. I want that for them, because I care about them as individuals. Also, to get to where we want to go as a business [leading Scout Talent Group to successful IPO by 2023-24], we need high levels of engagement to achieve that.
"Employee engagement isn't a one-time, "set and forget" thing."
How do in-person, non-work-related opportunities to socialize contribute to your company culture?
At the end of every quarter, everyone from our offices comes together to celebrate and recognize each other's successes at our "Quarterpalooza" events. These awards nights are a great way for our people to relax and socialize. It's an opportunity to enjoy speeches, trophies, drinks, and dancing at a great venue. We've had some great themes so far, from heroes and villains to activewear, and we usually top it off with something fun, like costume prizes or auctions.
These events are just one of the mechanisms we put in place to contribute to our culture. It's an opportunity to reward and recognise our people for their hard work, in a setting that's different to the office during the day. We try to incorporate an activity into these events, so it's not "just" drinking at a bar. It's an opportunity to socialise, engage in team building, and collaborate with people in the business you may not ordinarily spend time with.
"It's an opportunity to reward and recognise our people for their hard work, in a setting that's different to the office during the day."
Awards are a central component of these events. It not only allows the business to recognize our team members' outstanding achievements, but for them to be recognized in front of their peers.
You're a proponent of an Australian charity, Healthy Workplaces. Tell us about Healthy Workplaces and the benefits you've seen from offering corporate wellness initiatives.
Wellness is one of our core group values, so it starts there. We live this, promote it and bring it to life by promoting it to our current team members, candidates and clients.
Wellbeing sits alongside our other values, such as innovation and respect. It's crucial.
One of the ways we bring it to life is through Healthy Workplaces, Scout Talent Group's registered charity and corporate wellness arm. We choose to invest in this charity and its initiatives because we want our people to be active and experience wellbeing. We also want to extend our reach to positively impact other Australian and overseas organizations.
Healthy Workplace's signature corporate wellness events include Tour de Office and Step Forward.
When you're physically and mentally well, you're able to be your best, professionally and personally. Given you spend such a huge percentage of time at work, giving people the opportunity to be active at work is a great investment.
I think my passion for health and fitness stems from my early days as a personal trainer and group fitness instructor.
With disruptions from the global pandemic this year, including working from home, what did Scout Talent Group do to adapt when you couldn't meet in person?
Moving to work from home in such a short time presented a number of challenges. Everyone was so stressed and there were so many unknowns: we were dealing with a big life-changing event. We needed to think about new ways to keep engagement levels high during that period, keeping people feeling connected and giving them the support they needed through their leaders and peers.
So, we conducted a virtual Quarterpalooza event with games, costumes, awards, prizes, and drinks deliveries. We arranged optional team building and socializing events outside of work hours. Also, we implemented daily, virtual "All Hands Call" meetings. That's something that was exciting for me because people loved it so much and we've kept them in place, even after many of our team members returned to the office.
Excitingly, Healthy Workplaces also launched Step Forward, a free mobile app that encourages people to achieve the recommended 10,000 steps per day. We had prizes and weekly challenges, which was a great way to keep people feeling connected and active during what has been a challenging time.
One of Scout Talent Group's values is ownership. How do you give your team members more autonomy and ownership?
At Scout Talent Group, we have leaders, not managers. Leadership comes with responsibility, but it's the opportunity for them to "run their own business within the business." We give them the tools and training they need to succeed, including results-based incentives, running a P&L statement, and making decisions without bureaucratic sign off processes.
We're also rolling out Scout Talent Group share options to senior leaders and will filter that throughout our organization, so people can gain a real share in the business.
We offer people the opportunity to engage in directorships, or "passion projects." These exist outside of day-to-day work and give people the opportunity to expand their skills in other areas. In addition, we offer a Future Leader training program and promote from within wherever possible.
How do you conduct performance reviews?
So much can happen in a year. Our business moves fast and we're growing quickly. Not to mention the business world moves quickly too; so it baffles me if a team member only had the opportunity to meet with their leader once every 6 or 12 months for feedback. Our team members have one-to-one meetings every month, so people have that opportunity for regular, two-way communication. It's not just a leader "telling you what to do"; people can share their ideas and provide feedback on a regular basis.
Final question: employee engagement surveys. Overrated, or underrated?
When administered well with your end goals in mind, they're a really valuable tool. Some people might think they're overrated, because if it's something you do to tick a box, then put the results in a drawer and not think about them again until the following year, it can feel like an overrated tool. But I've seen them used brilliantly by organizations to effect positive change, and that's helped them get to the next level.
In our business, we conduct employee engagement surveys each year and work hard to implement positive change. We share the results at our quarterly Town Hall meetings. During these meetings, we talk about our business strategy, connect people to our purpose and provide an open forum for questions.
If you'd like to see how Scout Talent can help you to achieve the recruitment success that you want, please feel free to reach out to us via email at hello@scouttalent.ca or by phone at 1 866 474 3140.