What's an Applicant Tracking System (ATS)?
If you're working in recruitment, chances are you've heard of, or even used, an Applicant Tracking System (ATS). 
Put simply, an Applicant Tracking System allows you to centralize your recruitment process in one platform. In theory, using an ATS system can eliminate the need to track your job postings and applications manually, and can assist with a variety of recruitment tasks including:
Posting job ads to your website and to online job boards

Storing all job applications in one place, allowing you to review, rate and rank candidates all within the platform

Communicating with candidates and setting up interviews

Creating and sending onboarding documents
With all of the functionalities included in an ATS, it might leave you wondering why would a recruitment team not use an ATS? The answer is simple: time and money. Employees know, without definitive metrics around how using a piece of software will save your company time and money, getting senior management buy-in can be difficult. 
That's where Scout Talent come in. We've calculated exactly how much time our ATS :Recruit can save your recruitment team, in comparison to using manual processes commonly used by teams without an ATS. :Recruit was developed by our team of recruiters, for recruiters and our customers have reported a significantly reduced time-to-hire using the platform. Take a look at how much time you can save below.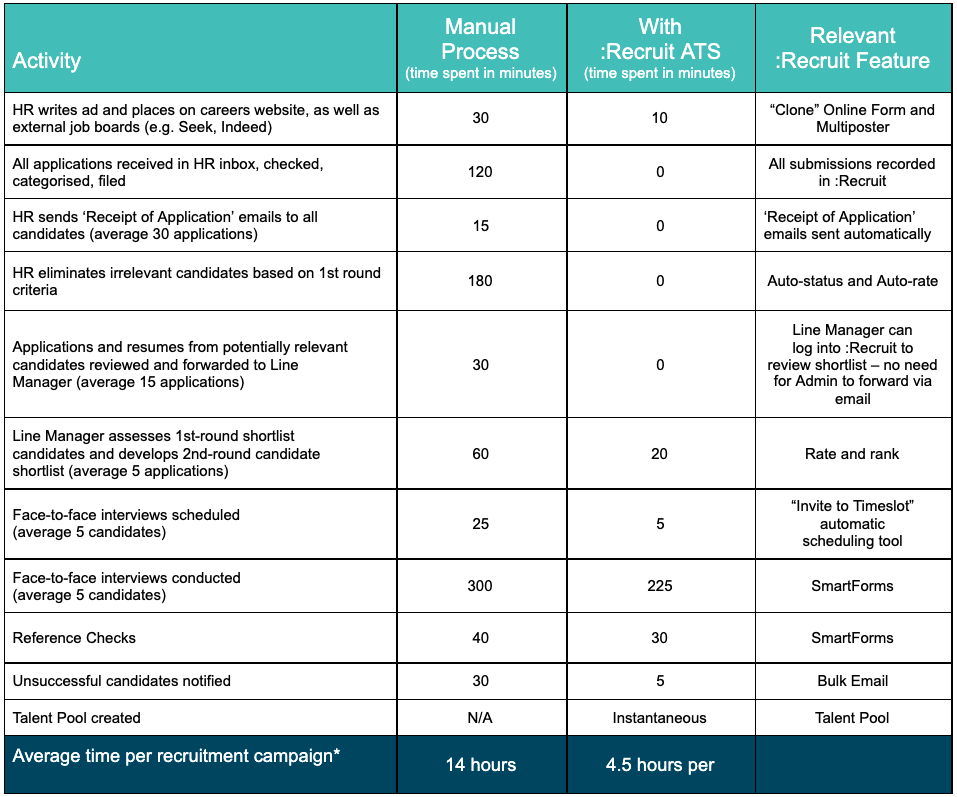 *assuming 30 applicants, 50% phone interviewed, and 30% of those face-to-face interviewed
As you can see from the example above, using :Recruit ATS software was over 3 times faster than doing the recruitment manually. With a clear idea of how much time using an ATS system can save, it makes it easier to assign a monetary value to adopting software and waving goodbye to a manual recruitment process. 
To learn more about our :Recruit ATS, visit our website. 
Check out our recent webinar on 'How to optimize your recruitment process by using an Applicant Tracking System'
To request a demo of :Recruit, book a time.
To sign up to the Scout Talent newsletter, fill in the form below.